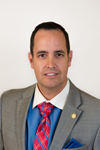 As managing principal of Sumit Credits, Jesse is responsible for client service and delivery of results for all SumIt engagements. Jesse has over 19 years of extensive experience assisting companies in maximizing federal, state and local tax credits and incentives for both large and mid-size companies.  He has assisted his clients in saving millions of dollars through multi-state tax credits, rebates, grants and abatements. He has been asked to speak for a number of groups about incentives and tax credits.
He earned a Masters in Taxation from Arizona State University and is a licensed CPA in Arizona and Louisiana. He is a designated Certified Credits and Incentives Professional (CCIP) with the Institute of Professionals in Taxation (IPT), Louisiana Association of Business and Industry (LABI), and Louisiana Industrial Development Executives Association (LIDEA).
Jesse enjoys fishing, boating, and other outdoor activities.